100% (earn in): Interest in the 12,200 Hectares (120 km2) Devon Project
Highlights:
The Devon Project lies on the Archean craton margin, covered by a sulfide-bearing sedimentary basin, a known ideal geotectonic setting for major magmatic sulfide deposits.

The region is intruded by numerous mafic-ultramafic intrusives (Crystal Lake Gabbro, Pigeon River and Logan intrusives), mostly dyke-form intrusions, which can contain disseminated to locally massive magmatic Ni-Cu sulfides with PGEs. The dykes are emplaced along normal faults which provide ideal conduits for deep seated fertile mafic magmas to rise quickly through the crust without losing their chalcophile elements or PGEs.

Target deposits are analogous to Eagle & Eagle East, MI, USA Tamarack, MN, USA, and Voisey's Bay Reed Brook Zone, NL (massive to net textured high-grade Ni-Cu-PGE deposits) or Current Lake, Ontario (PGE-dominant, heavily disseminated magmatic sulfides).

Major Pigeon River dykes form part of an east- to northeast trending swarm that transect the property and are typically 50 -70m in width but are locally up to 150 m wide. The dykes locally bifurcate, as well as change orientation from dykes to sill-form intrusions. These geometric complexities favor accumulation of magmatic sulfides in various structural and intrusive traps.

Historical occurrences associated with the dykes and mafic-ultramafic intrusions include 0.4% Cu, 0.17% Ni over 12.19m in drill core collared near Crystal Lake 1,2, and numerous grab samples anomalous in Cu, Ni, and PGE's (For example: 0.51 % Cu and 0.24% Ni, 0.46 Cu % and 0.3% Ni and 2.3% Cu, 1.2% Ni, 0.05% Co, and 0.62 ppm Pd 1,2).

Significant portions of the area remain underexplored despite its favourable setting and ease of access.  Most of the historic work in the west was focussed on vein and breccia hosted silver mineralization
Figure 1.  Geology of the Devon Project, Ontario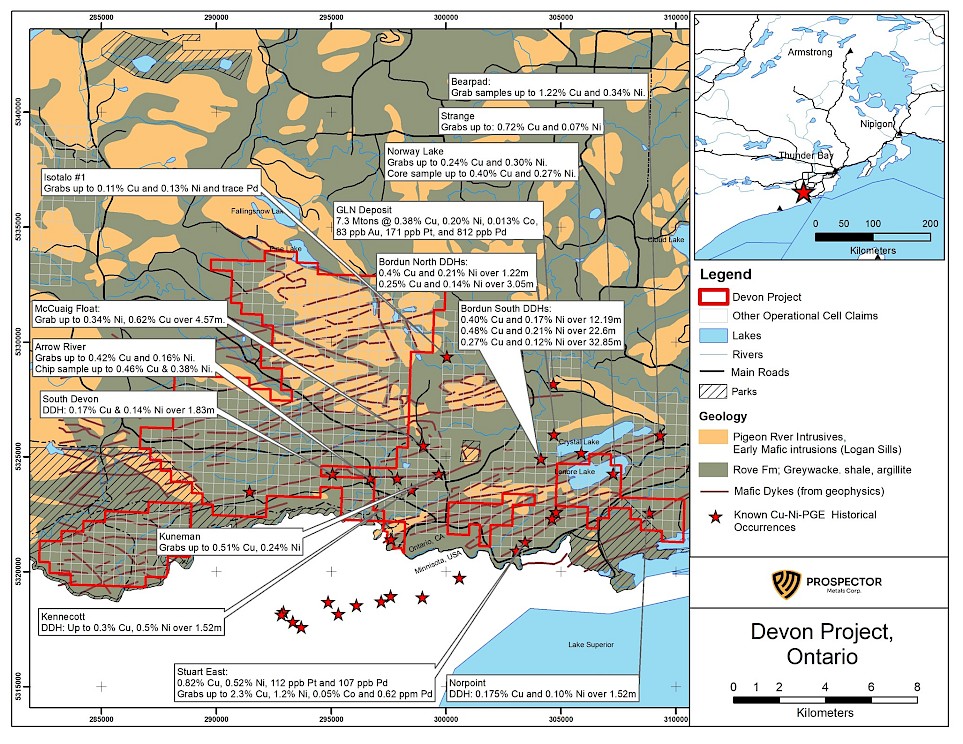 1 Historical assay values have not been independently verified by the Company and a potential investor should not place undue reliance on historical results when making an investment decision, nor should they be used as the sole criterion for making investment decisions. There is no assurance that the Company can reproduce such results or that the historical results described therein will be realized.  2 "Best surface samples" are grab / select samples and not necessarily representative of mineralization hosted on the property.