Leopard, Ontario
100% (earn in): Interest in the 7,383 Hectares (73.83 km2) Leopard Project
Highlights
District Scale – Property situated on the largely unexplored crustal scale break between the Wabigoon and Quetico sub-provinces where historic production of 4+ million oz. Au from a combination of quartz-carbonate vein systems/shears and sulphide replaced iron formation and includes porphyry-hosted vein mineralization (Figure 1).
Excellent Access – Main Provincial highway is 2 km north of the claim block and extensive network of roads and trails crisscross the property. Recent logging activities has created new access to the claim block allowing low-cost initial prospecting to be completed in 2022.
Overlooked – Very underexplored crustal-scale break/sub-province boundary between the Wabigoon (metavolcanic rock dominated) and Quetico (metasedimentary rock dominated) sub-provinces.  The entire tenure is underlain by metasedimentary rocks of the Quetico Sub-Province. No previous gold exploration is recorded in this package of rocks despite close proximity to major structural zones. Exploration in the nearby Beardmore Gold Camp has focussed entirely on the metavolcanic belts and has overlooked the adjacent metasedimentary rocks.
Proven Regional Endowment – Approximately 20km east of the past-producing Northern Empire Mine (150,000 oz. Au; 20,000 oz. Ag) and within the same stratigraphic belt of the BGB (Southern Volcanic Unit; SVU).
Figure 1. Leopard Project Location and Geology Map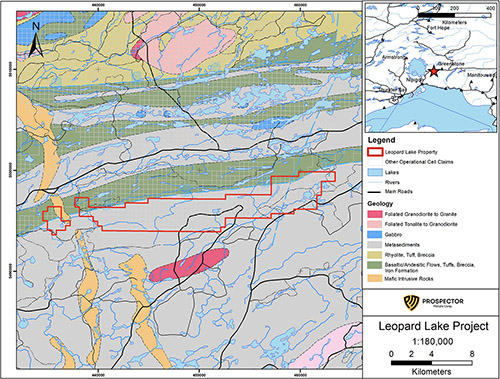 Related News